I've been working from home for years and I absolutely love it.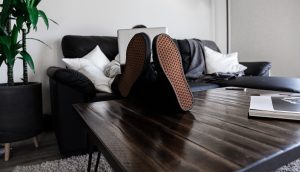 I don't have to spend loads of time togging up – I can't tell you how much I love the days when I can be relaxed and comfy working in my PJ's and Ugg boots.
I have flexibility and freedom to manage my time – some days I'll work from 5.30 or 6am until the kids get up, then switch off to ferry the kids to school, bounce home again to do a short yoga practice and get myself focused again, then dive back into things.
I can work in spaces that facilitate the work I'm trying to do – depending on what I'm doing, I move around the house and use different spaces to help me most effectively engage with the task at hand. If I'm thinking and reflecting to generate a solution, I'll sit outside in the backyard. When gathering my thoughts and making notes I'll sit on the couch. If I'm immersing myself in reading or material, I might relax on the bed. And when doing some heavy lifting on preparation and documentation, I'll spread out across the kitchen table. Admin, organisation and logistics all happen in the office.
I have quietude and space – while I still ferry kids to school and travel to meet clients, I'm not in the rat race of the peak commute each day. Aside from the positive impact on my sanity , the time I don't spend travelling creates a spaciousness in my day and brings a more calm, measured pace that helps me stay present and focussed.
Although there are loads of great things about working from home, this sudden shift, for many of us, will represent a significant change in the way we work.
Moreover, and while many people already work remotely to an extent – one or some days a week – doing it every day over a sustained period of time is altogether another matter.
Below are some tips around staying engaged as we start to work remotely on a wider and more sustained basis.
For those of us with Extroverted preferences
Although some people may relish the peace and quietude of silence and solitude to get their work done, this type of environment can send others positively stir crazy. Notably, those with more extroverted tendencies.
Working remotely and with limited face to face interaction has the potential to make extroverts very quickly feel isolated, disconnected, de-motivated and left out in the cold. After all, more extroverted individuals often feel highly stimulated, engaged and energised by the immediacy of interaction with others.
Office environments naturally offer a space for the type of interaction extroverts seek. Working at home on the other hand, puts up a very physical geographical barrier to the moments that arise naturally throughout the day – chatting with the barista as we order our coffee, exchanging chit chat in the lift on the way upstairs, catching up as we cross paths in the kitchen, or dropping by our colleagues desk to check in.
For those of us who are more extroverted, working from home doesn't have to mean instant isolation. Rather, it just means we need to be more deliberate and conscious in creating opportunities to engage with those we work with AND with those around us.
Take advantage of the fact you don't have to race out of the house to catch the bus or train – enjoy a proper sit down coffee or breakfast with the people you live with or make a video call to check in on a family member or close friend.
Schedule morning team break and be deliberate in taking the time to stop mid-morning – make a tea or coffee, step outside and connect with someone you work with. Schedule this time in your calendar and use it to help you foster meaningful relationships with your colleagues and teammates.
Find the fun – be creative in finding new ways to connect and work with your colleagues. Perhaps you're looking to run brainstorming sessions, unpack problems and explore solutions. Have fun looking for, sharing and leveraging interactive technologies that enable you to be together, share ideas and engage real-time.
For those of us with Introverted preferences
Those of us who lean more to the introverted side of things, working remotely has the potential to be positively blissful. None of those constant interruptions with people dropping by your desk, peace and quiet away from crazy, noisy open-plan offices, a welcome break from the intensity of face to face meetings where everyone talks over the top of you and want everything now.
Yes. Bliss sweet bliss it is to work at home for individuals with introverted tendencies.
The challenge here, however, is that those of us who identify as introverts may retreat altogether into this naturally preferred habitat. Perhaps never to be seen or heard of again. At least until we email the final deliverable or announce the solution has been implemented.
For those of us who are more introverted, working from home may mean we need to be careful not to retreat too far. Staying connected is critical to stakeholder engagement and overall receptiveness to the solutions we generate and recommendations we make.
Be deliberate to check back in with the mothership each day – even if it's just to report on progress, ask questions or re-assess priorities.
Proactively engage with your colleagues and stakeholders – don't leave them behind and out in the cold as you power forward in the sweet bliss of your newly found peace and quiet. Take some time to stop and reach out to your colleagues and stakeholders to get their feedback, input and perspectives. This doesn't always have to be a call. You might send a quick poll to check in with where everyone is at.
Speak up on calls – don't let the motor-mouths dominate remote meetings. Take a deep breath in and speak up when you have something to say. Trust me, they need to hear it and it's worth asserting for the 1-2 seconds that you need to step in a start speaking. If some online meetings are particularly unwieldy and out of hand, approach the organiser separately and perhaps ask them to take a more structured approach to managing discussion and inputs to ensure everyone gets heard.
We have loads more ideas to share with you, and will be doing so over the coming days and weeks.
Next time, we'll be looking at ways to stay motivated when working remotely. In the meantime, we'd love to hear your thoughts and ideas!
With gratitude,
The M.A.D. Team
Image Sourced from Unsplash by; Avi Richards, Dillon Shook, Freestocks and Aleks Dahlberg